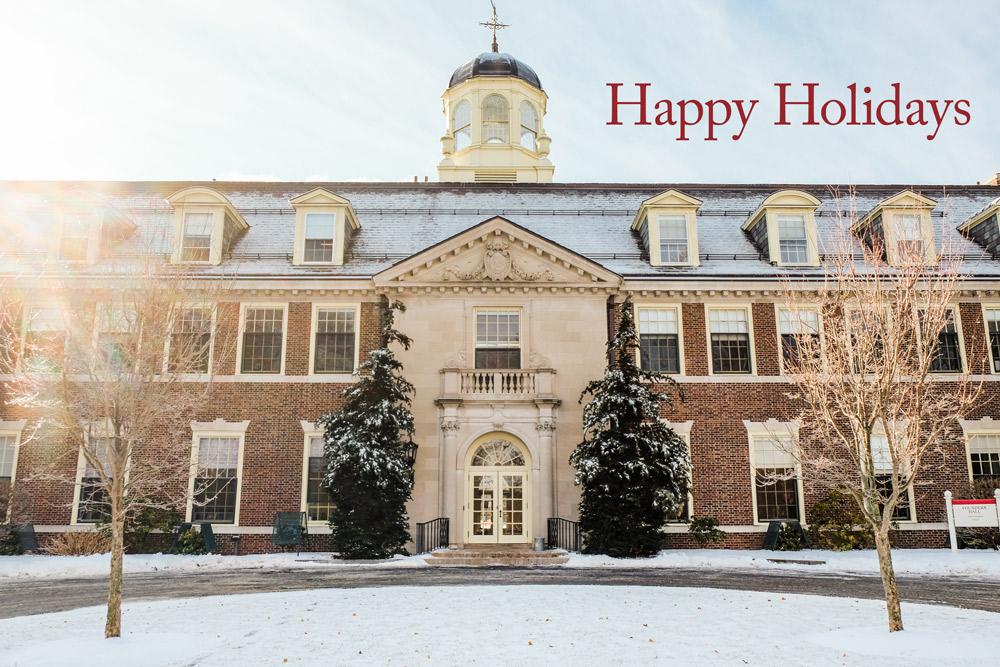 Designer Ruthie Davis '80 Disney Collaboration 

Connect to the U.K.'s Daily Mail FEMAIL site to read about how Ruthie Davis '80 designed a collection of shoes inspired by Disney's 11 princesses in honor of Mickey Mouse's 90th birthday celebration. Ruthie's were the only women's luxury shoe brand included among the Disney collaborations.
Re-Connect With Friends at Winter Brunch for Young Alumni on January 9! 

Recent grads are invited to re-connect with friends and school community members at this year's Winter Brunch for Young Alumni in the Scanlan Campus Center on Wednesday, January 9, at 11:30 a.m. Please join us back on The Island!  
Give the Gift of Summer On The Island

Have an intellectually curious young person on your holiday list? Consider a gift of The Loomis Chaffee Summer Program, an academic enrichment and personal growth experience filled with new friendships and summer fun! Take advantage of a 10% alumni discount just in time for holiday giving. Connect to the Summer Program webpage for 2019 program offerings and application information. 
Students in Pearse Hub For Innovation (PHI) Create Learning Toys for Local Schoolchildren 
In one of their first assignments for an off-campus client, students in Loomis Chaffee's Problem Solving in Manufacturing, Society, and Entrepreneurship class designed and made toys for young children this fall in the school's new Pearse Hub for Innovation (PHI).
Pelican Scoop Podcast: No Limits Mathematics

Joe Cleary and Hudson Harper, chair and assistant chair, respectively, of the Loomis Chaffee Mathematics Department, discuss opportunities for students with a passion for the subject. Download and subscribe to future podcasts on the Loomis Chaffee's Pelican Scoop webpage.

WEDNESDAY, JANUARY 9

Winter Brunch for Young Alumni
Parton Room | Scanlan Campus Center

Loomis Chaffee
11:30 a.m. to 1:30 p.m.

FRIDAY, JANUARY 11

Keith Scribner '80 Book Talk
Regarding his latest novel, Old Newgate Road
Loomis Chaffee I Gilchrist Auditorium
7:30 p.m.

TUESDAY, JANUARY 15

Guest Musicians: New World Trio
Hubbard Performance Hall
Loomis Chaffee
9:55 a.m. to 10:35 a.m.
THURSDAY, JANUARY 31

Hartford Reception

Loomis Chaffee I Scanlan Campus Center
6 p.m. to 8 p.m.
THURSDAY, JANUARY 10

Mercy Gallery Reception

Nanette Vonnegut "Things, Places, Faces"
Loomis Chaffee | Richmond Art Center
9:30 a.m. to 11:30 a.m.
Connect to Mercy Gallery webpage for more information
SUNDAY, JANUARY 13

Loomis Chaffee Winter Choral Concert

Hubbard Performance Hall

Loomis Chaffee
4 p.m. to 5 p.m.

THURSDAY, JANUARY 24

Loomis Chaffee Jazz & Guitar Ensembles Winter Concert

Hubbard Performance Hall

Loomis Chaffee
7:30 p.m. to 8:30 p.m.

THURSDAY, JANUARY 31

Head's Holiday Reception

PS 450
New York City, N.Y.
6:30 p.m. to 8:30 p.m.
Save the date: Classes ending in 4 and 9 — this is your year!

Lindsay Gabow '12 Wins Armed Forces Marathon Championship
Lindsay Gabow '12, a first lieutenant in the U.S. Army and an intelligence officer at Fort Sam Houston in San Antonio, Texas, won the Armed Forces Marathon women's championship this fall in conjunction with the Marine Corps Marathon, where she placed second among women overall.
Tim Helfrich '96 Earns Coach of the Year Award

Tim Helfrich '96, boys varsity soccer coach, was awarded the Connecticut Private-Parochial School Coach of the Year Award by United Soccer Coaches, a worldwide professional organization. With a 15-3-2 record, the team were 2018 Founders League Champions and Class A New England Semifinalists. Connect to the team's webpage for details about their fall season. 
LC Career Network
An in-network, online mentoring platform that provides a space where alumni can connect one-on-one for career advice, resume critiques, and practice interviews. See alumni reviews and join today!
The Loomis Chaffee School • 4 Batchelder Road • Windsor, CT 06095
860.687.6000