Today is Sunday, October 24, 2021
Tomorrow, Monday, October 25 is D2.
THIS WEEK
Monday
Senior Fishbowl Training
Norton Center Leadership Lab
Tuesday
A Spooky Evening of Science with Astrophysicist Lindsay DeMarchi
Pelican Leadership Academy
Wednesday
Kent Day T-Shirt Contest Designs Due
Fall Play: The Love of Three Oranges
Thursday
Free Gear from the Loomis Chaffee Bookstore Contest Ends
Ensembles Rehearsals
Fall Play: The Love of Three Oranges
Friday
Class Meetings
Fall Play: The Love of Three Oranges
Saturday
Fall Play: The Love of Three Oranges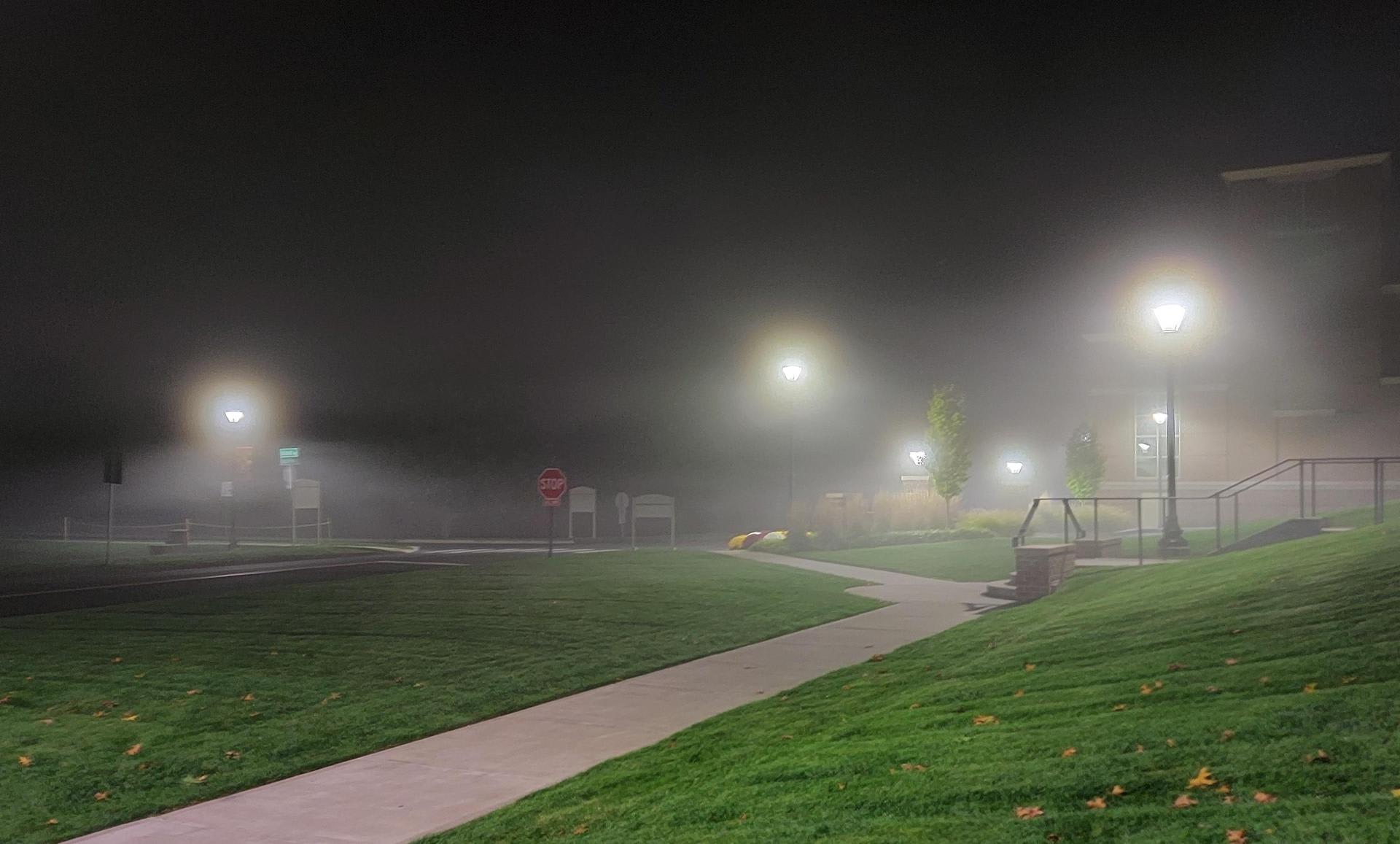 Late night on the Island. Photo by Julia Hinchman.
REMINDER Norton Center Leadership Lab — Monday, October 25
The Norton Center Leadership Lab is hosting another evening of conversation and support for campus student leaders. This session's topic will focus on finding balance between the role as a leader and the many other responsibilities at Loomis. Come by the Norton Center (1st floor of Founders Hall) from 6:30–7:30 p.m. on Monday, October 25. All are welcome to attend.
NEW Lockdown Drill on Tuesday, October 26
This is a reminder that there will be a lockdown drill on Tuesday, October 26, in the late afternoon. We are testing all notification systems including the siren, VoIP phones, and text messaging. Remember the "Run, Hide, Fight" protocol. During the test, community members do not need to shelter or run. Instead, please stop and consider what your response would be in an actual lockdown. Faculty and staff will work with students they are supervising or encounter during the drill to process the situation. Approximately 10 minutes after the drill begins, we will text an all-clear message and you will then be free to return to your activities. In Tuesday night's Daily Bulletin there will be a link to a survey for students about the lockdown; please take a few minutes to share your feedback. Faculty and staff will receive an email from LC Communications with a link to a survey for faculty and staff.
NEW Did You Know Series — LGBTQ+ History Month
Throughout the year, the DEI Student Interns will provide small morsels of knowledge in recognition and celebration of the myriad of voices and cultures that have helped shape our world for the better. We hope you enjoy them!
DEAD STARS: A Spooky Evening of Science with Astrophysicist Lindsay DeMarchi — Tuesday, October 26
Even stars die. They may die slowly, fading to eerie embers that linger on for trillions of years. Or they may explode in cataclysmic bursts known as supernovas, and for weeks or decades their glowing corpses will cast shadows on worlds across the galaxy. This Halloween season, join astrophysicist Lindsay Demarchi from Northwestern University for a tour of the cosmic autopsy room. Tuesday, October 26, 7–8 p.m. on Zoom.
Zoom link: https://loomischaffee.zoom.us/j/7201160871
KENT DAY T-SHIRT DESIGN CONTEST
Would you love to see the entire Loomis Community wearing your design on November 13?? If so, the KENT DAY T-SHIRT DESIGN COMPETITION is here to make that happen. It is time to get creative and competitive. Submit your t-shirt design to stephanie_bissett@loomis.org no later than Wednesday, October 27. Your design must be one color and embrace the spirit of Kent Day. The winner will be announced on Thursday, October 28.
Four Spots Available for Virtual Summit on Taking a Stand: Athletes, Artists, and Activism
One of Loomis Chaffee's travel partners, Envoys, is offering four free tickets to their upcoming Virtual Summit — Taking a Stand: Athletes, Artists, and Activism. The summit takes place on October 28 (4–5 p.m.) and October 30 (11 a.m.–4 p.m.) with a great lineup of speakers and collaborative activities! This opportunity is open to both students and faculty. Please contact Megan_BlundenStoecklin@loomis.org directly if you are interested in attending!
Win Free Gear From the Loomis Chaffee Bookstore
HOW TO WIN FREE MERCH:

Contest lasts until Thursday, October 28.
DM @loomischaffeebookstore a picture of you and your friends or family in Loomis gear from the bookstore (note: selected pictures may be reposted on the LC bookstore instagram).
You must be following the bookstore's Instagram account to qualify.
The winner will be selected by a random draw and will be announced on FRIDAY, October 29!
YOU CAN WIN ANY SWEATSHIRT OF YOUR CHOICE!! Good luck! We can't wait to see everyone rocking LC gear!
The New York Times Personal Narrative Writing Contest
The New York Times is hosting its 3rd annual personal narrative writing contest! If you have a personal narrative that you are especially proud of—a short, true story that showcases your unique experience, perspective, and voice—we encourage you to submit! Details about the personal narrative writing contest can be found here.

On Wednesday, November 3, at 6:30 p.m., there will be a workshop in the Writing Studio to help students revise their narratives and prepare their submissions. Please contact kate_saxton@loomis.org if you are interested in submitting or if you have any questions about the contest.
Athletics Schedule
Wondering when you favorite LC team is playing next? Bookmark the athletics schedule web page or click on the Athletics Schedule link in the "Important Links" section of the Daily Bulletin. You can also subscribe to alerts from your favorite teams. Just click on the bell icon above the schedule on the schedule page. Go Pelicans!
AMC Prep Sessions
Get your BRAIN HYPED UP! The American Mathematics Competition (AMC) is coming up on November 10. To help the Pelicans fully prepare for the competition, Quick Maths Society will host four student-run AMC Prep sessions, each with a specific theme. Here are the dates:
Session 3: Number Theory (Thursday, October 28)
Session 4: Geometry (Thursday, November 4)
Come to the Kravis Center from 8–9:30 p.m. on those dates for AMC prep!! Reach out to Chau_tran@loomis.org, Serena_Kim@loomis.org, Andrew_Park@loomis.org, or Nicole_Bowen@loomis.org for any questions.
The Daily Bulletin is published via email every evening, except Saturdays, while school is in session. Check out the Bulletin for the latest announcements and information about upcoming events. Please use the News and Information Submission Form to submit announcements. The deadline is 2 p.m. the day of publication; submissions for Sunday's bulletin must be submitted by 2 p.m. on Friday.
The Loomis Chaffee School · 4 Batchelder Road · Windsor, CT 06095
860.687.6000
This message was sent to EMAIL.